While reading my friend
Christine's
blog yesterday, I was suddenly struck by why I have been so disappointed in most of my pictures lately.... because since the weather has turned cold, all of my pictures have pretty much been inside. And I just haven't figured out how to make indoor lighting and my camera play nice yet. So I decided to take it outside today!
While waiting to pick Mylie up from preschool, I snapped a couple of Evelyn (and yes, other parents were looking at me like I was weird).
Love her eyes in this one while she was still strapped in her seat:
Evelyn is sporting quite a mish mash of brands today (which can be seen as a big no-no on some forums I frequent!). Gap Deauville hat and coat, with Old Navy jeans and Gymboree Tres Chic shoes.
When it was time to pick up Laina from school (have I even mentioned that all I do all day is drive kids to and from activities and school?) I snapped a few of Mylie who stubbornly refused to wear the hat I wanted her to in favour of a pink Gap corduroy newsboy.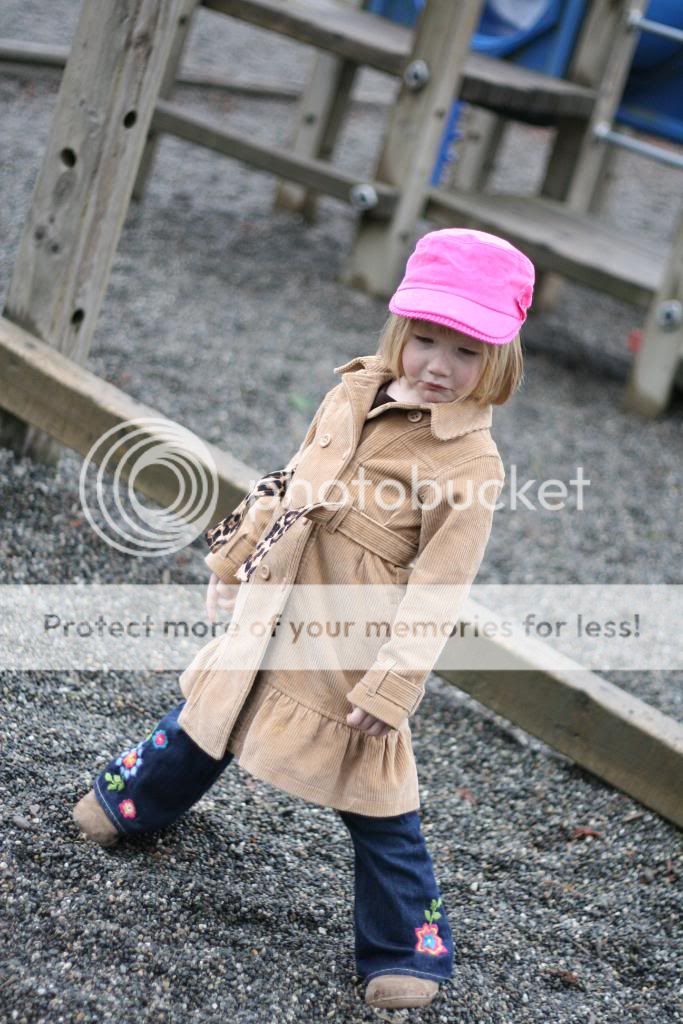 Mylie is wearing Gap Leopard/ Deauville corduroy trench with Gap Himilaya top and jeans, with Joe Fuggs.
Here is Evie again, this time with a different soother (fyi in case I refer to it as such, soothers are know around here as "ooshies"). Working the runway.
And a sweet one of the sisterly reunion once Laina got out of class.
If I can get my sewing machine to stop being temperamental while I finish, I will have something cute to show you tomorrow night!